July 13, 2021
Tesla Energy to Install Solar and Powerwall+ at Panther National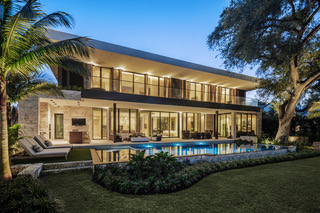 Energy independence and sustainable energy generation has always been the driving force behind Tesla's focus on home energy systems. Tesla's vision aligns with Panther National, a new residential development in Florida that combines high-end architecture and amenities with a commitment to clean energy. Tesla plans to install cutting‐edge clean energy products throughout the sustainably- designed community at Panther National, including Tesla Powerwall+ and Tesla Solar products.
Tesla is pleased to collaborate with the Panther National Development team as they share the goal of building cleaner, more resilient communities. Led by Dominik Senn and his executive team, in collaboration with Willstrong, its construction partner, and world-renowned architect Max Strang, Panther National is creating modern, energy independent residences that blend elegant architecture and energy sustainability. The development incorporates site‐driven and climate-driven design philosophies that will be coupled with the innovative energy technologies provided by Tesla Energy.
Tesla Solar Panels, Powerwall+ with an integrated inverter and Tesla Wall Connectors will work together as a cohesive system to enable residences to achieve energy independence. The flat roof design at Panther National coupled with the Florida sun provides the ideal landscape for Tesla's proprietary solar panels. In addition, the Powerwall+ systems will replace outdated and noisy generators used in storm prone areas.
Panther National will be the first‐of‐its‐kind residential community that offers luxury lifestyle amenities in an energy efficient, sustainable environment. Opening in Palm Beach Gardens, Florida, Panther features 218 private residences centered around a Jack Nicklaus Signature Designed championship golf course.
Tesla Energy has diligently refined its system to achieve competitive pricing, ensuring that the home energy systems are accessible to homebuyers throughout the United States. Together with Tesla, Panther National will achieve its vision of creating sustainable buildings and energy independence in a world-class setting.