August 17, 2021
Luxury goes green: Tesla tech to come built-in to Avenir's 'modern country club' homes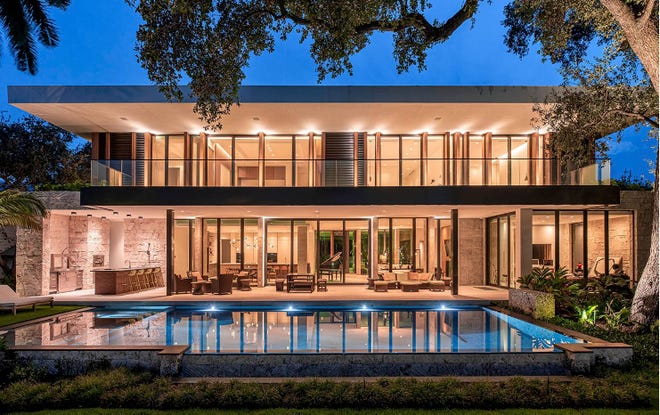 PALM BEACH GARDENS — Indoor pools and private docks are yesterday's symbols of wealth. A development on the western fringe of Palm Beach Gardens is resetting the baseline for luxury: electric cars and solar panels.
More than 200 homes planned in a community within the sprawling Avenir development will be outfitted with Tesla solar roofs, the tech company's Powerwall+ power-storing system and electric-vehicle chargers.
The environmentally conscious living that Panther National is offering its residents will come at a price: "Modern estates" in the community will start at $3 million and some will cost as much as $12 million, according to the company's president.
Scott Hedge, Panther National's chief operating officer, compared the development to The Bear's Club in Jupiter and Old Palm Golf Club east of Avenir, where homes for sale start at $6 million. 
On Aug. 5, developers presented the plans for Panther National to the Palm Beach Gardens City Council, which unanimously approved the master site plan for the community and its 18-hole Jack Nicklaus championship golf course.
Panther National is not the first development in southern Florida that features renewable energy. Babcock Ranch, which straddles the border of Charlotte and Lee counties on the state's Gulf Coast, bills itself as the state's first solar-powered city.
Panther National's tie to Tesla, however, may help it stand out in South Florida's luxury home market as it pushes inland — and signal the types of people who might call it home.
"This is the first time I've heard of a specific auto manufacturer partnering with a homebuilder," Eric Dunbaugh, a professor in the DeDepartment of Urban and Regional Planning at Florida Atlantic University told The Palm Beach Post.
"That would seem to commit the entire community to having a Tesla or buying one in the future."
The divide between people with second homes and people with second jobs in Florida — which has long been visible in Palm Beach County — can be seen now in the shortage of workforce housing, perpetual trouble keeping businesses staffed and even a recent run on mansions in Palm Beach.
It's part of what national economic analysts call the U.S.'s "K-shaped recovery" from the pandemic — that is, life is getting better for wealthy Americans at the top and getting worse for poorer Americans at the bottom of the economic spectrum.
"Billionaires have seen their net worths grow up by almost $1 trillion during the pandemic, while their frontline workers have foregone hazard pay and fallen ill," Business Insider reported in November.
Northern Palm Beach County is no stranger to those concerns. In early August, the city approved luxury apartments at Downtown Palm Beach Gardens that one leader recognized would not be affordable for the people who need to work at the shopping center.
As Panther National gets first approval, the issue of affordability persists and working people continually get priced out of the homebuying market.
"Palm Beach County as a whole doesn't seem concerned with affordability," FAU's Dunbaugh said. "When we're dealing with luxury folks, they're going to do whatever they want."
Developers for the ultra-luxurious community say the wealth attracted by the new gated neighborhood will help bring in new investment and create more jobs in the county, home to 1.6 million people.
"The people who are buying houses out in here (are) obviously very wealthy and very well-to-do," land planner Donaldson Hearing said. "They're CEOs and people involved in developing and creating business. To some extent, it helps make the business environment in Palm Beach County more attractive."
Hedge pushes back on the idea that owning a Tesla will be the baseline for the community of multimillion-dollar homes.
"Just because we're using Tesla technology doesn't signal that you are buying a Tesla vehicle," he said. "That's not the goal."
But Panther National is Palm Beach County's newest example of how investment in green energy is becoming a way to stand out in the luxury homebuilding market.
Sales of luxury homes, or homes selling at an average of $975,000, increased by 41.6% year-over-year during the first quarter of 2021. By comparison, affordable home sales, or homes selling for an average of $184,000, grew by 7% in the same period, according to real estate brokerage firm Redfin. 
Palo Alto, Calif.-based Tesla, once known only as an electric car company, is using the burgeoning market to branch out. While this partnership is its first in Florida, it is similar to agreements it has with Texas homebuilders in Austin and Porter, a city northeast of Houston, to incorporate its technologies as power sources in new homes.
"If anything, this is a developer marketing tool," Dunbaugh said of the Tesla incorporation into Panther National homes. "It's a status symbol for a certain segment of the population."
Brad Hunter, a real estate analyst with West Palm Beach-based Hunter Housing Economics, said properties like Panther National and Tesla's Texas "smart homes" open up opportunities for people who can afford to buy into the environmentalism that renewable energy makes possible.
"There are people who are environmentally conscious but don't have the funds," he said. "At a certain level of income and wealth, people don't have any barriers."
What will Panther National look like?
Panther National's use of Tesla technology isn't the only way it will distinguish itself within South Florida's luxury-home market.
It will have the lowest density in all of Avenir, which covers more than 4,700 acres north of Northlake Boulevard west of the Grassy Waters Preserve. Plots will begin at one-third of an acre — double the traditional size of a Florida lot — and some will be as large as 1 acre.
The style of the homes may be even more striking. According to plans shown to the city, they'll have a contemporary look, long and rectangular with floor-to-ceiling windows, a style more characteristic of cliffside California than low-lying South Florida.
The architect Max Strang of Miami-based Strang Design is responsible for the styles of the homes, which developers hope stand out among the Spanish-style mansions common at other country-club communities.
As for the Tesla component, land planner Hearing said integration during construction will make using renewable energy easier for people who can afford to buy in Panther National. The homes' flat roofs will help hide both the solar panels and the Powerwall+ system that can replace generators used during storms.
"We're creating areas where you can incorporate the solar panels without them looking like an add-on," Hearing said.
Dominik Senn, president of Panther National developer Centaur U.S. Holdings, said he hopes the community will be a 21st-century overhaul of country-club living. It will include an 18-hole golf course, a 9-hole par-3 training golf course, a swimming pool and a members-only clubhouse.
His idea for Panther National came from playing golf at traditional country clubs in Jupiter, which he said felt "dark and stiff" and full of rules governing who could play on the course and when.
"This will be the first modern gated community in the U.S.," Senn said. "The first modern country club."
Hunter, the real-estate analyst, said the demand for country club luxury that Senn hopes to capitalize on is reaching new heights after a hard stop to growth in the early 2000s.
In the 1980s and 1990s, "country clubs were going up left and right," Hunter said.
But "there hasn't been much in the way of country club development in the last 30 years. There's a strong demand for country-club housing, so I think there will be plenty of demand to absorb million-dollar homes."
Panther National homes will not surround the golf course, according to the plans, but rather be situated west of the golf facilities in "pods."
The development team hopes to have more detailed site plans for the housing pods back in front of the city in October. Those plans should include more renderings of the homes and more concrete details about how Strang will use the Tesla systems.
"Growth is inevitable, but smart growth is important," Hedge said. "With the sustainability that you can bring to the table, (Panther National) is the best of both worlds."