April 14, 2023
How Palm Beach Gardens is Growing: Avenir Welcomes Homes, Hospital, Golf and More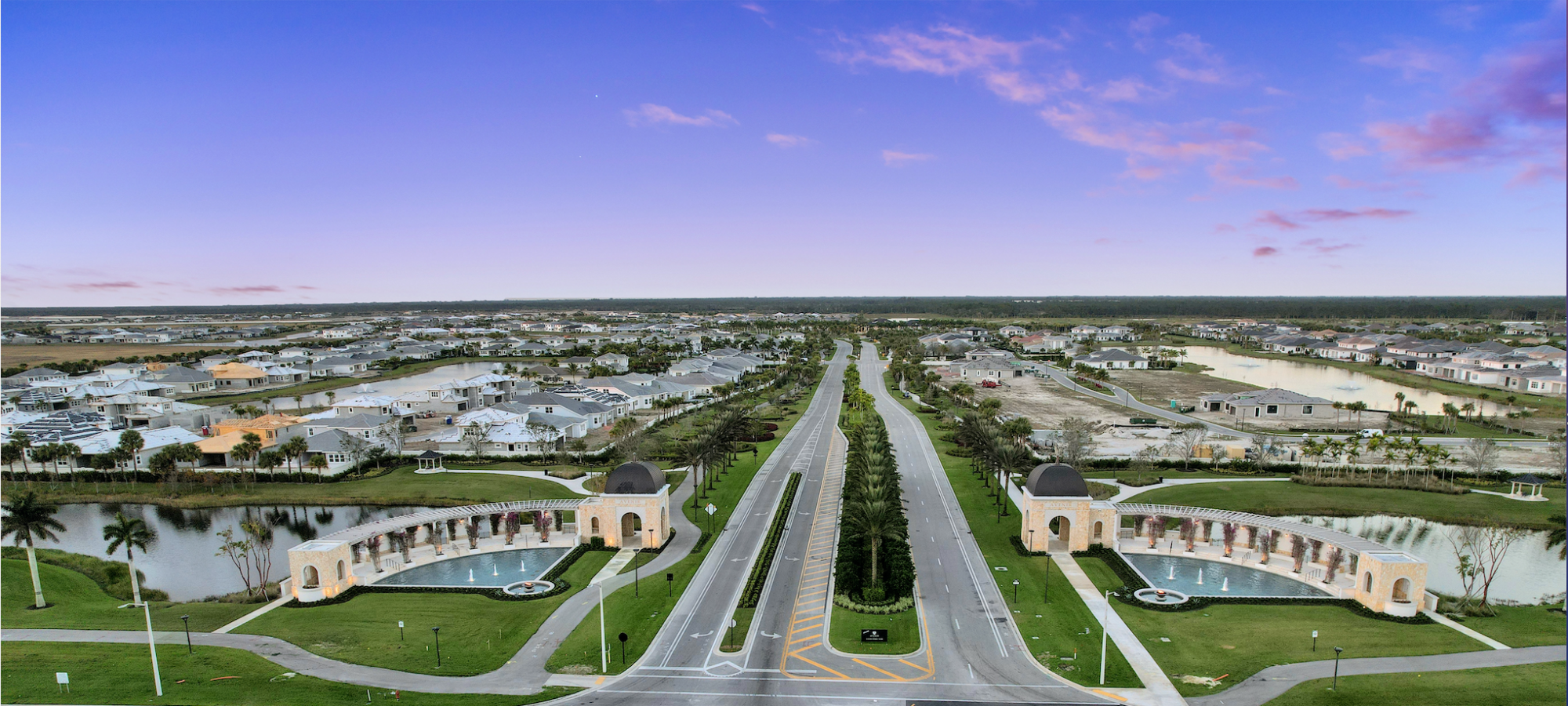 Palm Beach Post, April 13, 2023
Palm Beach Gardens' most modern community yet is under construction. In a few years, thousands of residents will occupy the new neighborhoods.
The emerging Avenir community is expected to welcome new townhomes, a new hospital, town center and a golf course to the west side of Palm Beach Gardens within the next five years.
Mayor Chelsea Reed says it's important to keep the plans for the expanding community thoughtful and intentional.
"If we're going to keep sprawling and building out west, we need to try to make sure that we do that (intentionally)," Reed said. "The people who live west now — once we put in all that commercial area — they won't be traveling all the way into the eastern area of the city because they'll have that commercial (area) out there in Avenir."
Here are five projects that the Palm Beach Gardens city council has approved for the build-out of its newest community off Northlake Boulevard west of the Beeline Highway.
Avenir's planned neighborhoods will bring almost 4,000 new homes The collection of neighborhoods planned for Avenir will one day bring nearly 4,000 new homes to the 4,752 acres the community will occupy. All of them luxury homes, with the lowest prices ringing in at about $500,000.
But what makes the development unusual is its array of builders. Instead of working with one developer for every neighborhood within the community, Avenir Holdings is working with several developers to give each neighborhood its own feel.
Some homes will be consistent with the style of other South Florida luxury developments, while other homes will come outfitted with Tesla technology like electric-vehicle chargers and solar panels. But all of them will be luxury.
The neighborhoods at Avenir only have 320 homes under construction so far and certificates of occupancy have already been issued for 218 homes.
"The timeframe for full completion of the housing development program is unknown at this time and depends significantly on market absorption," said Natalie Crowley, the city's director of planning and zoning. "Several residential site plans are still currently under review, and several residential areas have yet to be submitted for site plan review."
Jupiter Medical Center and UF Health are planning to bring a small hospital and medical offices, totaling about 200,000 square feet of medical facilities, to a complex that will be called the Health Park at Avenir.
In partnership with the new hospital's services, plans for the site include medical office spaces for primary care and specialty physicians.
If 20 in-patient beds doesn't sound like a lot, it's because it isn't. The neighborhood hospital will be what is called a microhospital and will be built in the community's new town center.
Besides the new Health Park at Avenir, the town center will feature 376,759 square-feet of commercial space, 55,048 square-feet of restaurant space,120,000 square-feet of office space and 250 townhomes. Plans also call for a variety of storefronts with retail, dining and entertainment opportunities for Avenir residents.
Last August, the city council approved plans for a drug store with a drive-through and a grocery store with a pharmacy drive-through to be added to the site plan for the town center district.
24-hour emergency services
An ER with eight beds
20 in-patient beds
Operating rooms, labs and imaging services
The recently approved site plan for the Town Center "features gorgeous, modern, and connected design," Crowley said. "The goal is to provide future residents the ability to access services without driving into the eastern center of the Gardens. This will capture trips to help keep cars off of Northlake."
Over 200 of the community's new homes will sit on the new golf course that is scheduled to be completed this fall. The new 18-hole course and training facility was designed by professional golfers Jack Nicklaus and Justin Thomas.
The luxury estates that will sit on the course itself will most likely offer the most modern homes in Avenir. The homes in the Panther National neighborhood have a sleek, ultra-modern design.
Miami-Based architect Max Strang is at the helm of designing these homes with environmentally-friendly construction practices, green technology and natural materials. Strang is also the architect for the community's lifestyle and wellness clubhouse, which will offer spa services, a fitness center and fine dining.
In a March 2 meeting, the city council approved plans for a community clubhouse in Avenir. The 16,000 square-foot western Avenir clubhouse will feature a resort-style swimming pool with waterfall features, poolside cabanas and pavilions, an eight-person spa and a two-lane lap pool.
Plans for the area around the clubhouse also include eight tennis courts, six pickleball courts, a fire pit with seating, a kids' zone, a fitness center, two event lawns and an indoor event hall.
According to city officials, the clubhouse must be completed prior to July 15, 2025, or within two years of the issuance of the first building permit for the clubhouse, whichever comes first.