January 30, 2022
Golf soars as Palm Beach County residents of all ages clamor for the greens in COVID era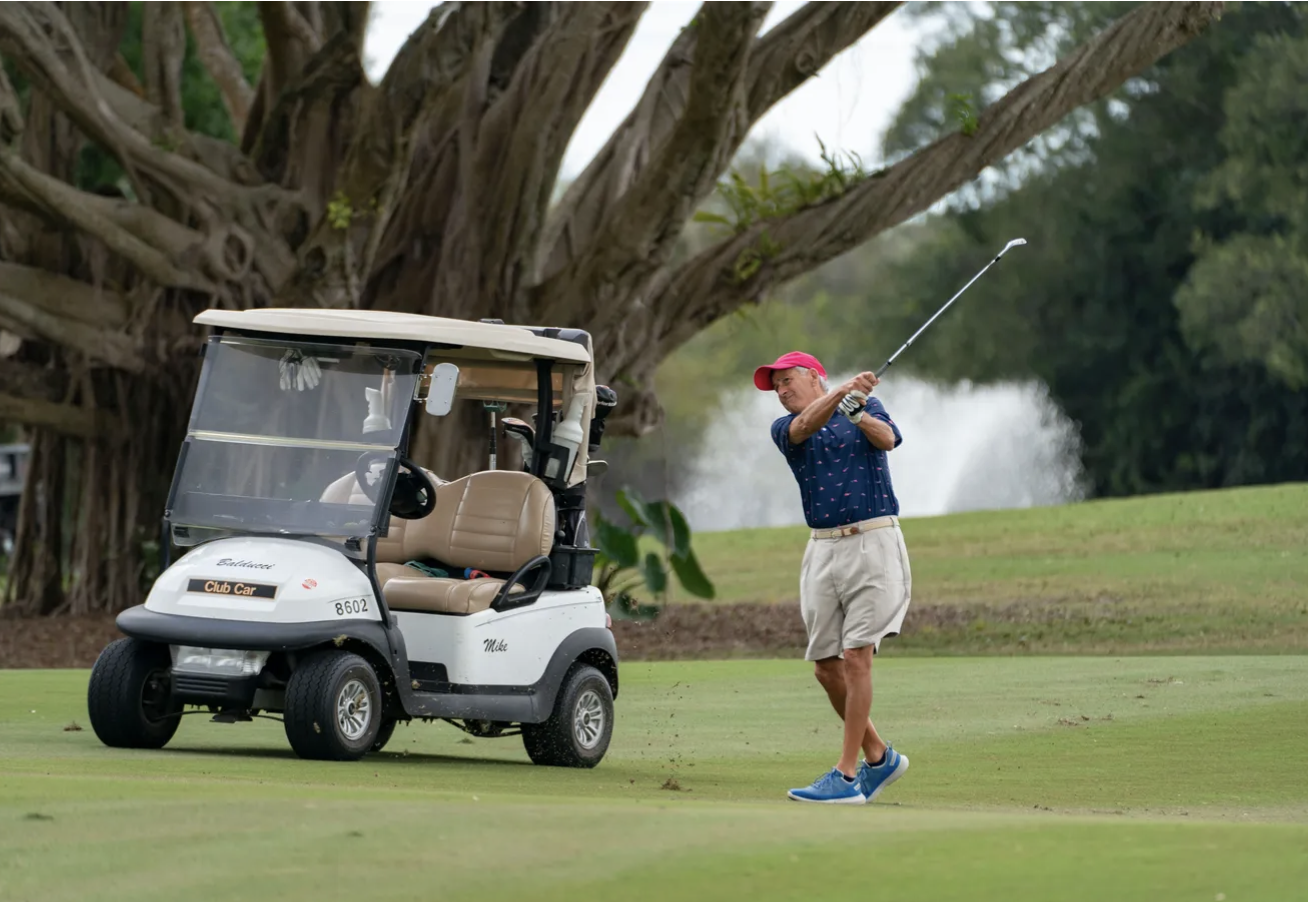 David Ravitz frequently hits the links at Delray Beach's Delaire Country Club, where his family has a club membership. But Ravitz, 29, also would like to play golf regularly in the community where he just bought a home, Woodfield Country Club in Boca Raton.
That can't happen right now. Even though Ravitz joined Woodfield's club as part of the community's mandatory membership requirement for home purchases, he can't get access to the top membership choice, golf. Ravitz said there's a golf membership waiting list at Woodfield, and he's No. 85 on the list.
"There was no waitlist two years ago for golf," Ravitz said. "Now it's about five or six years long. It's pretty crazy."
Welcome to the new golf. It's the same as the old golf, but with a fresh demand for rounds — and lots of them — for players eager to tee off, all thanks to
the coronavirus pandemic.
The airborne COVID-19 virus prompted a number of changes in the way people live, and play.
Locals are used to playing outside in the sunshine, but it's now the case for many newcomers moving here from cold, crowded urban areas, said Ryan Walls, general manager of BallenIsles Country Club in Palm Beach Gardens.
For many of these new Florida residents, being outside means looking for things to do for exercise and socialization. Golf fits that bill, and the sport's popularity has again taken off like a "rocket ship," Ravitz said.
Prior to the pandemic, there was a downward tick in golfers and golf courses. In fact, some communities in South Florida sold off their courses to developers who paved the greens to make room for more housing.
But the prior disinterest in the sport has "pivoted 180 degrees with the pandemic," said Joel Paige, a longtime country club manager who once served as managing director of PGA National in Palm Beach Gardens.
Young, old, locals, transplants all want golf in COVID era
Not only are Palm Beach County's golf courses enjoying a revival because of people retiring here or working here, but also golf is drawing new aficionados, including young adults, said Paige, who now serves as chief executive of a new planned golf club community, Panther National in Palm Beach Gardens.
Maybe young people are drawn to the sport after they learn about it at entertainment venues such as Top Golf or Drive Shack. Or maybe it's just people unable to gather in bars or nightclubs discovering an activity that combines fitness with socializing.
"I have a lot of friends who only recently got into the game as a result of COVID," Ravitz said. "There was nothing to do aside from being outside, so they all started playing golf and have continued to play. They'll play the rest of their lives."
Peter Nanula, chief executive of the privately held Concert Golf Partners, said the sport is booming nationwide, "and Florida is part of it."
The Newport Beach, Calif.-based company owns and operates country clubs in 23 communities across the country. Seven are in Florida and two are in Palm Beach County: Indian Springs Country Club in Boynton Beach and the Fountains Country Club in suburban Lake Worth.
And at Jupiter Country Club in Jupiter, Club Corp. of America owns the club, which it bought in 2019. In 2020, when the pandemic hit, demand for golf in the 550-home community also exploded, said Allie Marquette, Jupiter Country Club marketing and membership director.
Demand for golf is so strong that a summer membership for non-residents was discontinued. And residents wanting to have a full or partial golf membership are on a waiting list.
"We've had so many people moving in here year-round," Marquette said. "It's not just snowbirds. It's families relocating from New Jersey and New York."
Supply v. demand determines who plays golf as interest in sport booms
As the pandemic enters its third year, demand for golf is outstripping supply, experts agree.
With public courses crowded, many new residents coming to Florida are opting to buy in residential communities that feature country clubs with golf, guaranteeing the residents' ability to play as much as they want.
As a result, some country clubs that used to offer discounted seasonal golf memberships to non-members have stopped the policy. Nearly all clubs are full with new members, and many clubs have golf waiting lists.
In addition, Matt Lambert, general manager of The Country Club at Mirasol in Palm Beach Gardens, said women and teenagers also are hitting the links. And with the pandemic limiting travel at times, "more and more people are staying in Florida year-round."
Last year, Mirasol handled more than 80,000 rounds of golf, up about 20% from the club's previous high before COVID. There's a 70-person waitlist for a golf membership at Mirasol, which means people who are sports or social members have to bide their time.
Scott Agran, president of Lang Realty in Boca Raton, said he's watched golf's popularity ebb and flow during the past 35 years.
When Agran first moved to Florida decades ago, homeowners living in country club communities bought golf memberships, even if they didn't play, to protect their investment. Some communities tied a house to a membership, and many homeowners concluded their homes would be worth more if they came with a top- tier membership, especially when clubs limit the number of golf memberships so their courses don't get crowded, Agran said.
Some communities dropped golf as popularity in the sport faded
During the past 15 to 20 years, Agran said, golf faded in popularity as the population aged and people socialized outside their club. In addition, low interest rates have hurt seniors living on fixed incomes, some of whom couldn't afford the added costs of club dues, even as costs to maintain golf courses continued or rose over time.
Some country club communities came under pressure to carry the costs of maintenance and upgrades, and a few, such as the President Country Club in West Palm Beach, fell into financial trouble. In 2011, The Lands of the Presidents community sold the club and its two golf courses to a development group, which then sold it to Banyan Cay, a company that upgraded the golf course and now is building a resort hotel on the site.
Meanwhile, home prices dropped in some mandatory club membership communities because people weren't willing to pay thousands of dollars separate from the cost of buying a home, said Peter Sachs, a homeowners association attorney in Boca Raton.
Some homes in Boca West Country Club in Boca Raton and Hunters Run Country Club in Boca Raton famously sold in 2019 and early 2020 for prices ranging from $5,000 to $1. At the time, sellers couldn't find any other way to unload the properties, which came with required membership initiation fees costing tens of thousands of dollars.
Further adding pressure to golf club communities was the spate of new communities built in the 2000s, leading to an oversupply of country clubs in central and northern Palm Beach County, said Jeff Lichtenstein, founder of Echo Fine Properties in Palm Beach Gardens.
The new communities included The Club at Ibis in West Palm Beach, The Country Club at Mirasol in Palm Beach Gardens and Old Palm Golf Club, also in Palm Beach Gardens.
Also new was Jupiter Country Club, the last new golf country club built in the county in recent years.
Since 2016, the supply of new country club homes slowly started to become absorbed as more people moved to Florida, Lichtenstein said.
"Then COVID came and all of a sudden, everybody wants to be outdoors," Agran said.
Sachs said people moving to Florida from cold climates "want the outdoors, they want the golf, and they are willing to pay the additional costs of a mandatory membership."
Country club initiation fees can start at $50,000 and go up to $80,000, $100,000 or more. There are other fees, too, including annual dues.
Clubs that invested in new amenities and kept them updated in recent years have benefited from the migration boom, Sachs said. This is especially the case for clubs in communities that added family-friendly or wellness features such as playgrounds, spas, upgraded pools and gyms, and courts for the latest fitness craze, pickleball.
Those clubs that struggled financially prior to the pandemic either sold their clubs to real estate developers, or sold to professional club operators such as Concert Golf or Club Corp. of America.
Transplants learn they can work from anywhere, then play golf
Now that the pandemic has normalized working from home, well-paid professionals who worked for companies in other states are moving to Palm Beach County, too.
They are buying large homes in country club communities where they can work and where their children can use the communities' amenities, allowing the family to socialize together in outside spaces, real estate agents said.
Mirasol's Lambert said he sees this first-hand.
"We're definitely seeing more young families moving to Florida, and with our amenities for kids, it's a huge attraction," he said. He also noted that Mirasol typically has more residents with school-age children than other nearby country club communities.
Lichtenstein said financial services executives whose companies relocated to Palm Beach County are driving demand in northern Palm Beach County. Some buyers are even buying small properties in private communities just so they can have access to the golf clubs, Lichtenstein said.
But it's not just rich financial types who are buying homes.
Buyers coming from high-tax states such as New York, New Jersey, Massachusetts, California and Illinois are finding they can buy more house and still afford to plunk down $100,000 or more on a country club membership with the money they save on local taxes, plus the appreciation they gained from their home sales elsewhere.
Demand for golf club communities is so great that most country club communities have very few homes available for sale.
At Mirasol, there are no homes for sale in the 1,170-home community, Lambert said. And in one recent week, there were only 13 homes for sale at PGA National, out of 4,963 homes in the Palm Beach Gardens golf community.
"I thought it was an error," Lichtenstein, who recalled the prior lowest inventory at PGA National was during the 2005-06 real estate boom, when only 25 homes were for sale.
Buyer frenzy for club perks pushes up home prices in county communities
That fierce demand for golf and club amenities is pushing up home prices across the board.
Admirals Cove in Jupiter is one community where demand greatly exceeds supply. The community not only features plenty of waterways for homeowners who want to park their yachts, it also has 45 holes of golf: One 18-hole golf course and three nine-hole courses.
In 2021, 98 homes at Admirals Cove traded for a total sales volume of $436 million, up from 74 homes in 2019 with total sales volume of $203 million, the year before the pandemic, according to Jupiter-based Waterfront Properties.
It's a similar story over at BallenIsles, where 146 homes traded in 2021 for a total sales volume of $139 million, compared to 74 homes and $49 million in sales volume in 2019, prior to the pandemic.
"It's incredible. It's just nuts," said Rob Thomson, Waterfront's managing partner. "I'll put two houses on the market today, and one is already sold, and the other will be sold by sundown tomorrow."
People are so desperate to get into Admirals Cove, Thomson said, he had one buyer pay full price, $3.5 million, for a building shell. The seller had torn down most of his house to redo it, changed his mind, and then quickly sold the half-built structure.
Sales are strong and prices are sky-high in southern Palm Beach County, too.
At Broken Sound Country Club in Boca Raton, 187 homes sold in 2021 for total sales volume of $86 million, up from 95 homes and $38 million in sales volume in 2019. Sales at Woodfield Country Club rose to 68 homes with $82 million in sales in 2021, up from 53 homes and $44 million in sales volume in 2019. And at Boca West, 318 homes changed hands in 2021 for a total sales volume of $121 million, up dramatically from 2019, when 208 homes sold and sales volume totaled $68 million.
Out-of-town buyers, who are used to high real estate prices in other states, still see Florida as a bargain, Thomson said.
Last week, a potential buyer scoffed at an Admirals Cove home priced at $6 million and said it was worth maybe $5 million. Then a buyer from out of state "walks in, says it's the cheapest house he's ever seen, and buys it for $6 million. No inspections. He was happy to get it," Thomson said.
Also popular is BallenIsles, where Lee Weisberg of the Weisberg Group said houses sell as fast as he lists them.
"It used to be that people would get a lower membership and a nicer house," Weisberg said. "That's not the case anymore. There are a lot of people who want to play golf."
BallenIsles features residences ranging from condominiums to estate-style homes, priced from the $300,000s to more than $4 million. The community has three golf courses, which means residents have an easier time getting on the fairways than communities that only have one or two courses.
Two years ago, the BallenIsles south course was redone "from tee to green" by Rees Jones, a renowned golf course design firm, Walls said. The community also renovated the clubhouse and built a new pickleball complex.
Walls said golf is so important to residents now, they decided to accelerate a planned redo of the east course and practice facility. Golf great Jack Nicklaus' Nicklaus Design will handle the renovation.
"I was outlining the plan to the members about hiring the Nicklaus organization, and they loved it so much they said they don't want to wait three years, so we are doing it this summer," Walls said. The course will be ready by December.
Nicklaus, a resident of North Palm Beach, has a history with BallenIsles: In 1971, he won the PGA Championship there.
Golf course access was "the No. 1 thing" to new resident Mike Balducci, who bought a home in the community last March.
Balducci, who moved to Palm Beach County from a golf course community in Hilton Head, S.C., to be closer to family, said he considered buying in another community. But he said it had a four-year wait for a golf membership, "and what am I going to do for four years, waiting around? This way, I can play anytime I want."
At age 73, Balducci said he's used to seeing people his age on the greens, but he's also noticed more residents living at BallenIsles who are in the 40s and 50s, too.
"This place is packed with young people," Balducci said.
A full-access golf membership at BallenIsles costs $145,000, up $15,000 from last year, Walls said.
A soon-to-be built new golf and country club could alleviate the limited supply of golf memberships and satisfy demand for people who want the country
club lifestyle with their homes, and are willing to pay for it.
Panther National, a new residential and golf community at Avenir in Palm Beach Gardens, is the first new golf course community to be built in the county in nearly 20 years.
Recently, the community began taking reservations for one of its 218 planned homes, which range in price from the mid-$3 million range to more than $10 million.
Within days, 55 reservations were made for the homes, said Mike Collins, chief executive of IMI Worldwide Properties, Panther National's sales and marketing firm. Each refundable reservation requires a $10,000 deposit.
Collins said he's not only selling the project, he's also buying into it. He, too, wants to play golf more often, including with his family, and he is willing to buy into a residential country club to play as much as he wants.
"It's interesting," Collins said. "Over 30 years, we've done 18 projects that have had a Nicklaus-designed golf course. Five years ago, that ended. And now we're doing golf courses in Napa, in Cabo, in the Dominican Republic, and Panther. Golf is very front and center."
The Nicklaus-designed club community, combined with the chance to live in a new house in a growing area of Palm Beach County, were draws for Joe Mullings, too.
The Palm Beach Gardens resident, 60, has children who are on their own or about to go to college. That got Mullings and his wife thinking about where they want to live: By the beach? Near a downtown?
But then Mullings, who owns several Delray Beach-based companies, started thinking strategically.
He wanted to buy a home that would keep its investment value for his children. And he concluded that buying a place with a golf course membership at a Nicklaus course was the best plan for now and into the future.
The club also is a way to socialize in a smaller, known group, Mullings said, with like-minded people who value fitness as well as fun. There's also the appeal of buying a new house in a new community with others who also are doing the same.
"I think high-end golf communities have become anchors for people and their lifestyle," Mullings said, "and coming out of the pandemic, lifestyle has become more important than ever."