July 29, 2023
Gardens OKs Avenir Amenities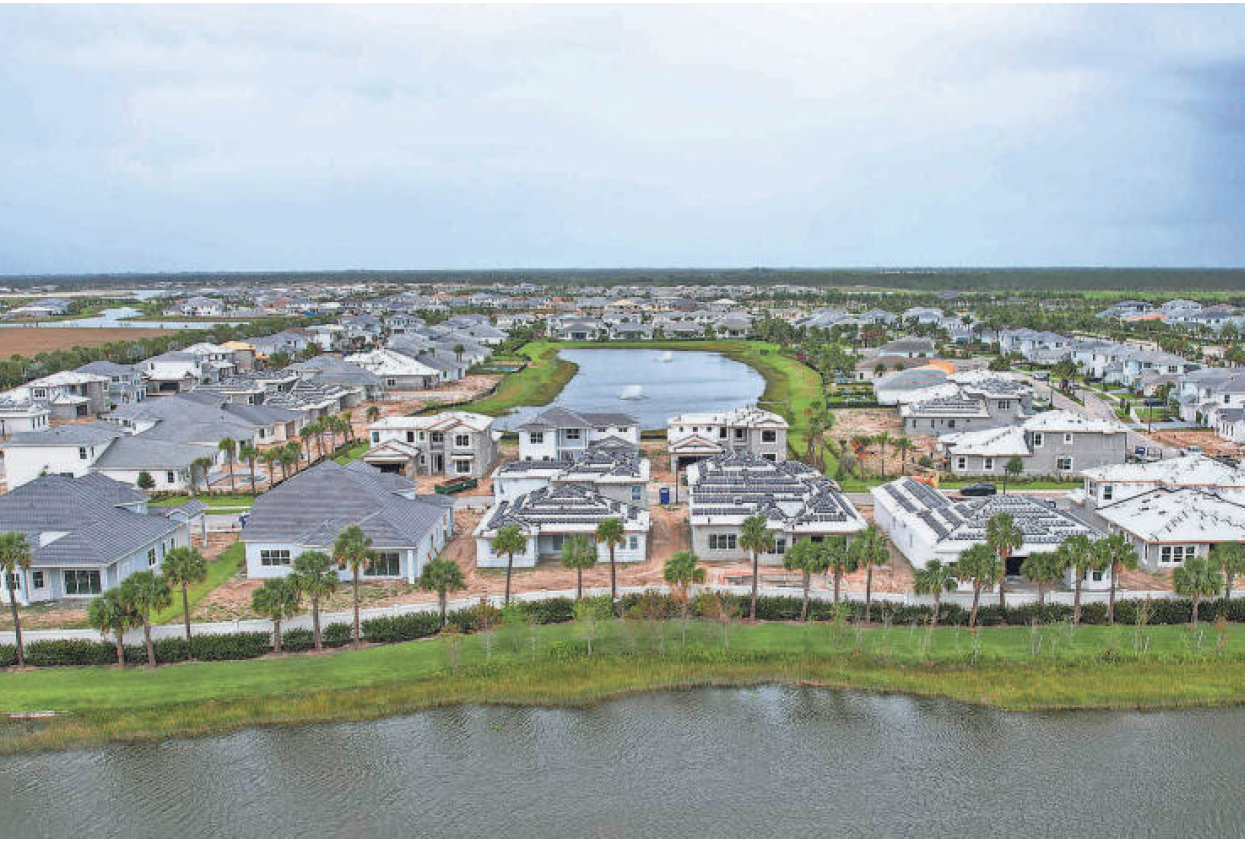 Palm Beach Post, July 21, 2023
Plans for age-restricted homes, dog parks cleared.
A trio of dog parks and potentially a 1 million square foot office development are coming to Avenir. Those items were among a spate of approvals granted by the city council July 13 for the sprawling development on the city's west side. Mayor Chelsea Reed was absent from the meeting. By the time it's built out, Avenir will bring about 4,000 new homes to 4,750 acres off Northlake Boulevard west of Florida's Turnpike that once was the Vavrus ranch. It stands to increase the population of Palm Beach Gardens by as many as 10,000 people once every home is occupied. The council gave the OK for the site plan of a 491-unit single-family home, age-restricted community on Avenir's west side, at the northwest corner of Avenir Drive and Panther National Boulevard. The new community sits on about 150 acres bordered by another of Avenir's residential communities to the south, Panther National's golf course community to the north and east, and the forested property known as Mecca Farms to the west. Lot sizes will be either 50 feet or 60 feet wide, said Ken Tuma with Urban Design Studio, the agent for the project. There will be 11 acres of open space, including a roughly 6-acre site with a clubhouse just inside the community's main gate, he said. Residents will be able to access the community from three points, one on the south side, one on the southwest corner and another on the northeast corner, Tuma said.
Amenities in the community will include bocce, pickleball, passive parks and green spaces, chess tables, trellis swings and a yoga lawn, he said. An age limit wasn't specified July 13. A builder is under contract but not finalized for the site, Tuma said. Architectural plans for the community will be brought to the city council at another date. Sites for three dog parks approved in Avenir There will be three dog parks in Avenir, under the plans approved by the council. Each dog park will be at least 3,000 square feet with amenities for canines and humans including shade structures and water fountains, under design standards that were set as part of the council's approval, Tuma said. One dog park would be toward the southeast corner of Avenir, in the Town Center area near the planned hotel, he said. Another dog park would be on the north end of Avenir where there is a pump station for stormwater, and the third dog park would be in the southwest corner in an area set aside for agricultural uses, Tuma said. Council member Marcie Tinsley said the dog parks meet demand from residents in that area: "We've had so many requests for dog parks in the western communities," she said.
The resolution that set the locations for the dog park also adjusted a boundary between an agricultural area and a residential area on the south side of Avenir, and allowed for a possible farm-totable restaurant concept there. Tuma did not provide any more details on the restaurant except to say there could potentially be two restaurants in that area, both without drive-thrus.
Business site could have up to 1 million square feet of offices Plans for an office complex along Northlake Boulevard near Avenir's eastern entrance are coming together, thanks to one of the approvals July 13. A planned commercial area that had been approved farther into the development and known as the "economic development parcel" was moved to a new spot on the northwest corner of Northlake and Coconut boulevards. The economic development area was required as part of Avenir's original approvals, and included 50 acres with 500,000 square feet of office space. With the move the council approved, 10 acres will be added for a total of 60 acres in the new location on Northlake, Tuma said. The developers also assigned another 500,000 square feet of office space that is already approved for Avenir to that parcel, creating a 60-acre site that can hold a potential 1 million square feet of office space, Tuma said.
Maintenance facility approved for Avenir golf course Also approved July 13 was a site plan for a maintenance facility for the golf course in Panther National at the north end of Avenir. The maintenance facility was already part of the approved master plan.
What else is being built in the Avenir development? Over the next five years, projects being completed in the luxury community will include: h A small hospital and medical offices that are being built by Jupiter Medical Center and UF Health. h A town center with a supermarket with a drive-thru pharmacy, a drug store with a drive-thru window, 55,000 square feet of restaurant space and 250 townhomes, plus 120,000 square feet of office space. h A 18-hole golf course and training facility designed by Jack Nicklaus and Justin Thomas. h A 16,000-square-foot clubhouse on the west side of Avenir that will have two pools, cabanas, pavilions, a fitness center, eight tennis courts, six pickleball courts, a spa and a kids' zone.