January 13, 2022
Coral Isles at Avenir Grand Opening Season
Coral Isles, an exclusive enclave of luxurious estate homes from Kenco Communities, is celebrating the Grand Opening Season showcasing three captivating models at Avenir, the innovative new master-planned development in Palm Beach Gardens.
Featuring between 3,247 and 5,322 square feet of contemporary air-conditioned space, the models include the one-story Antigua, with four bedrooms and four baths; the one-story Cozumel, with three bedrooms, 3.5 baths, a den and club room; and the two-story Dominica, which includes five bedrooms, 6.5 baths, a loft and club room. All models include a three-car garage.
Kenco Communities offers two additional models, the 4-bedroom, 4 bath Barbados and the 5-bedroom, 4.5-bath Barbados V, featuring 3,585 square feet and 3,786 square feet of air-conditioned space respectively.
"It's the many, many small details that add up to make the difference," says Lorna Swartz, director of sales for Kenco Communities, a boutique, family-owned builder with 30 years' experience building estate homes for those who appreciate an individualized approach to service and the finest in contemporary design.
Each of the magnificent master-crafted one- and two-story estate homes at Coral Isles features an impressive array of design selections that enhance the ideal indoor-outdoor Florida lifestyle.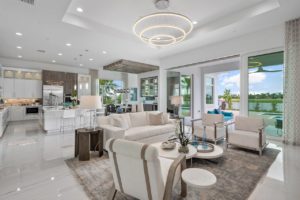 Features include 10-foot sliding glass doors and expansive windows that offer the outdoors a friendly invitation to come in as well as smooth finish walls and ceilings, freestanding master tubs, white or bronze window frames, 8-inch baseboards, 4-inch casings, wide selection of kitchen cabinetry, double ovens and more.
Coral Isles offers the largest estate homes in Avenir as well as the largest lots in the community, offering private garden, greenspace, and lake views.
The inclusion of space for a home office and upgraded wiring system to ensure Wi-Fi reception throughout the home reflect Kenco Communities' understanding of the needs of today's homebuyers. "More and more people are obviously choosing to live where they want to live, not where they have to live for work," Swartz says.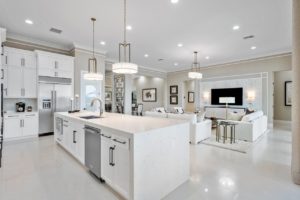 For those buyers seeking a quicker occupancy for their dream home, Kenco Communities is building spec homes to provide a significant jumpstart to the process," says Kenco founder Ken Endelson.
The presence of a convenient, onsite design center and staff adds to the personalized service. Prospective homebuyers work with trained professionals to select from the array of design possibilities, ranging from exterior selections; such as, brick pavers and decorative stone to luxury interior finishes; such as, quartz and granite countertops and the numerous flooring options.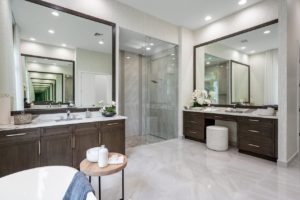 Prices for the Estate Home Collection in Coral Isles, a Limited Edition Lifestyle by Kenco Communities at Avenir, range from more than $1.6 million to over $3 million.
As the Grand Opening Season debuts, you are invited to tour the designer furnished models at Coral Isles at Avenir every day.
"This is the right time to be part of our success at Coral Isles!" Swartz says.
To schedule your private appointment or for information about homes available for quick occupancy, please contact Kenco Communities at 561.295.8404 or info@GoKenco.com.
ABOUT KENCO: Kenco Communities, a family-owned builder and developer of real estate in Palm Beach County, has built more than 5,000 remarkable homes in some of South Florida's most distinguished communities, including Addison Reserve (Delray Beach), Mirasol and Mirabella (Palm Beach Gardens), The Oaks (Boca Raton) and Wycliffe Golf & Country Club(Lake Worth Beach), Arden (Wellington) and is now the featured luxury builder at Avenir (Palm Beach Gardens). Under the dynamic leadership of company founder Ken Endelson, Kenco has earned a reputation as one of the most respected and sought-after builders of luxury homes in South Florida. Kenco's innovative approach to design, and demanding standards are at the core of the company's 30-year history of achievement. Kenco's Onsite Sales Gallery at Avenir is located at 9357 Coral Isles Cir., Palm Beach Gardens, FL 33412.
ABOUT AVENIR: Avenir is an innovative 4,752-acre sustainable community located in prestigious Palm Beach Gardens that provides wide-open spaces as the backdrop to a healthy resort lifestyle. When the visionary community is complete, it will feature a resort-style clubhouse, working farm, dedicated golf cart paths, spacious dog parks and some 300 acres of lakes and waterways. More than 2,400 acres will be transformed into a dedicated nature preserve featuring extensive walking trails that residents and their families will enjoy for decades to come. Avenir is built for the future with high-speed fiber optic internet available to each home from multiple providers. And to top it all off, Avenir is also approved for 400,000 SF of retail space and 2,000,000 SF of new offices, shops and restaurants. Avenir is located at 12001 Northlake Blvd., Palm Beach Gardens, FL 33412.
Kenco Communities at Avenir
Jackie Biro
jackie@redbaradv.com | 954.854.8994
January 13, 2022