November 30, 2020
Avenir completes landmark entrance to community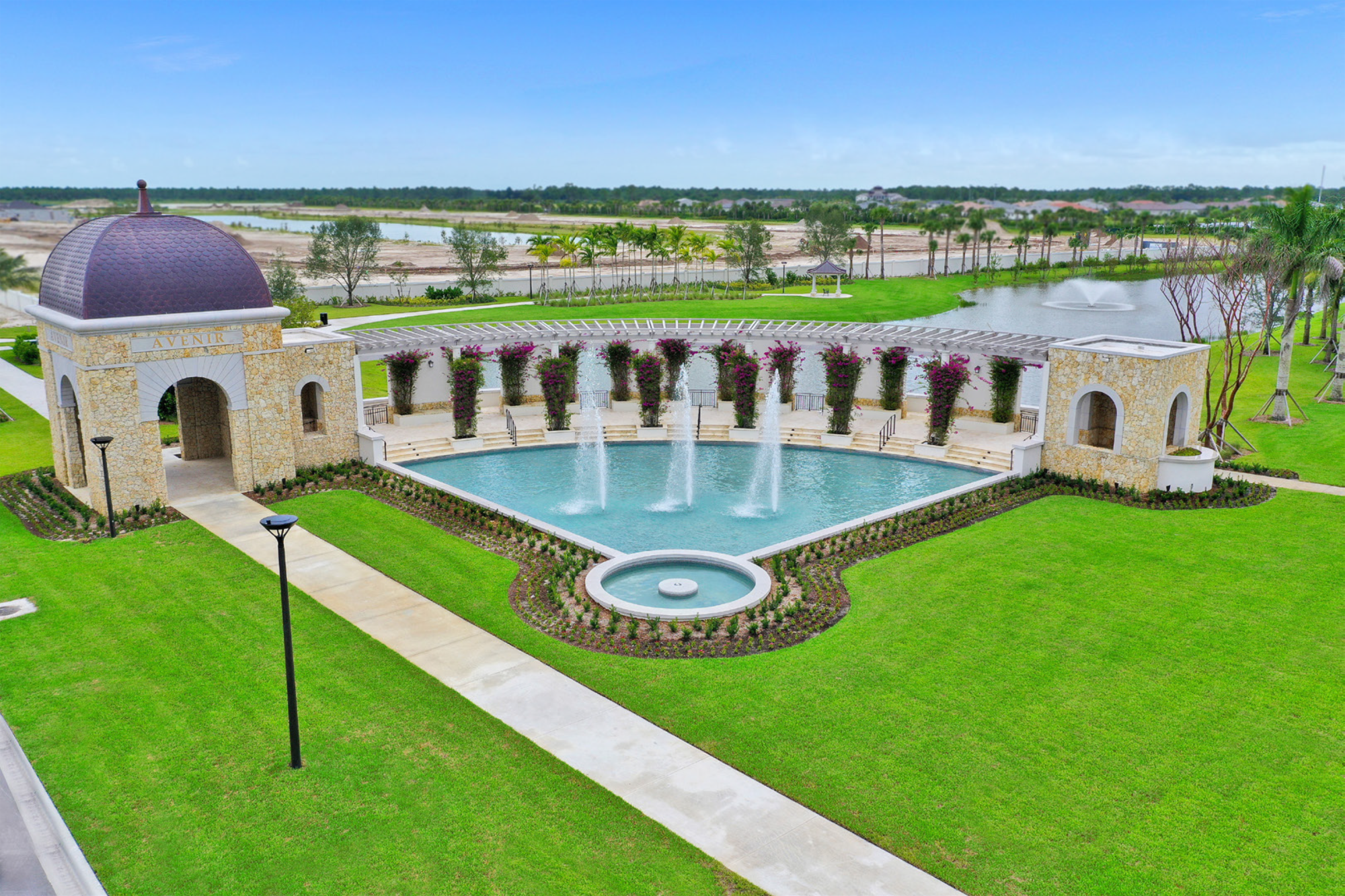 Palm Beach Gardens, Fla.
Avenir, a unique master-planned community rising in Palm Beach Gardens, has completed its landmark entryway on Northlake Boulevard. The entrance is a stunning example of the care and planning applied to the details throughout Avenir.
The entrance reflects the most identifiable element of Avenir, but when the developers sought a designer, they looked for one that would create a civic-scale plan encompassing all of Avenir.
Much like Palm Beach is recognizable by its clock tower monument, Mizner architecture and Italianate elements, unique public spaces, wide walkways, and choices of monumental plantings, the developers of Avenir wanted Avenir to have a landmark entrance that elevated the community and to contain identifiable design elements on the civic scale carried throughout Avenir. Architects and town planners refer to designs on the "civic scale" as ones that have visual character that is recognizable as a whole and designed for people to interact with and enjoy.
The civic scale design of Avenir, including the entrance, was created by Rafael Portuondo, known as one of today's top designers of classical architecture and landscapes in America and is president of Portuondo Perotti Architects based in Coral Gables.
Rafael Portuondo is active on projects in Palm Beach, from historic restoration of private estates, gardens and landmarks, to design of public spaces on the island as well.
"I discussed the project with the developers," says Portuondo. "I was impressed by their vision of connecting the entire property with its several neighborhoods, communal areas, commercial spaces and nature areas. I liked that they were thinking of a cohesive design to give identity to this new community—the entire community," said Portuondo.
The developers had many discussions with Portuondo about their desire to provide Avenir residents with a sense of place intertwined with nature and with a timeless aesthetic—rooted in classical and historical place-making. Where the entrance provides a place statement, streets are defined by consistency in design of signage materials, colors, etc. and landscapes have continuity in plants, trees and spatial style.
"I was impressed with the thought they had put into the civic scale of the community and their emphasis on the opportunities for social engagement of the residents provided by the landscape and design choices," said Portuondo.
Portuondo's Avenir entrance on Northlake Boulevard is a classical design with symmetrical colonnades and archways reaching around the main entry roadway, "…like open arms welcoming Avenir's residents home," says Portuondo.
Portuondo incorporated natural elements: gardens, water pools with fountains, and fire bowls on both sides. The colonnade walkways are trellised with colorful bougainvillea vines. Not until you are within the archway does the visitor see the water and garden vista on the other side—which is carefully planned with meandering walkways leading to a gazebo aside the lake.
Portuondo capped the entry with two monument-like towers made of ancient oolite stone sourced in Florida. Each stone was hand-hewed and fitted to construct the towers. Capping the towers are copper fish scale tiles. "As the copper ages, it will only become more beautiful," says Portuondo.
From entry to roadways, from people flow and communal parks, the developers laid out a plan for Avenir. The 4,752-acre property is complex and large with several distinct neighborhoods totaling 3,900 homes, 2,400-acres of natural area with miles of trails, recreation parks, working farm, retail and commercial areas, all connected by streets, walking, cycling and dedicated golf cart paths that encourage socializing and provide easy routes to the Avenir clubhouse, retail shoppes and restaurants on the property.
The developer's plan visually connects it all as one place within a well-planned landscape. Even the distinctly different monument entries to neighborhoods incorporate the oolite stone and other elements of design that run throughout Avenir.
Everything about the community's design invites residents to enjoy and participate in the experience of Avenir.
At present, the Toll Brothers' sales office and models are open on-site as is the sales office for the Kenco Communities at Avenir. K. Hovnanian Homes sales office is coming soon.